Hey everyone! The big news this week is that Canada Mortgage and Housing Corporation (CMHC), the most experienced mortgage loan insurer in the country, has announced that it's "increasing its homeowner mortgage loan insurance premiums effective March 17, 2017."
That sounds daunting, so let me break it down a little bit. In Canada, homeowners who put down less than 20% of the purchase price of their home are required by law to pay mortgage insurance (which protects the lender in case the homeowner defaults on the loan). The insurance premiums vary depending on the size of the down payment and the price of a home – this is called the loan-to-value ratio – and currently the standard premium ranges from 0.6% of the mortgage value (when the loan-to-value ratio is low) to 3.85% of the mortgage value (when the loan-to-value ratio is abnormally high). Starting March 17th of this year, the new range of those values will shift so that almost all premiums will be higher than they are today, with 4.5% of the mortgage value being the new upper limit.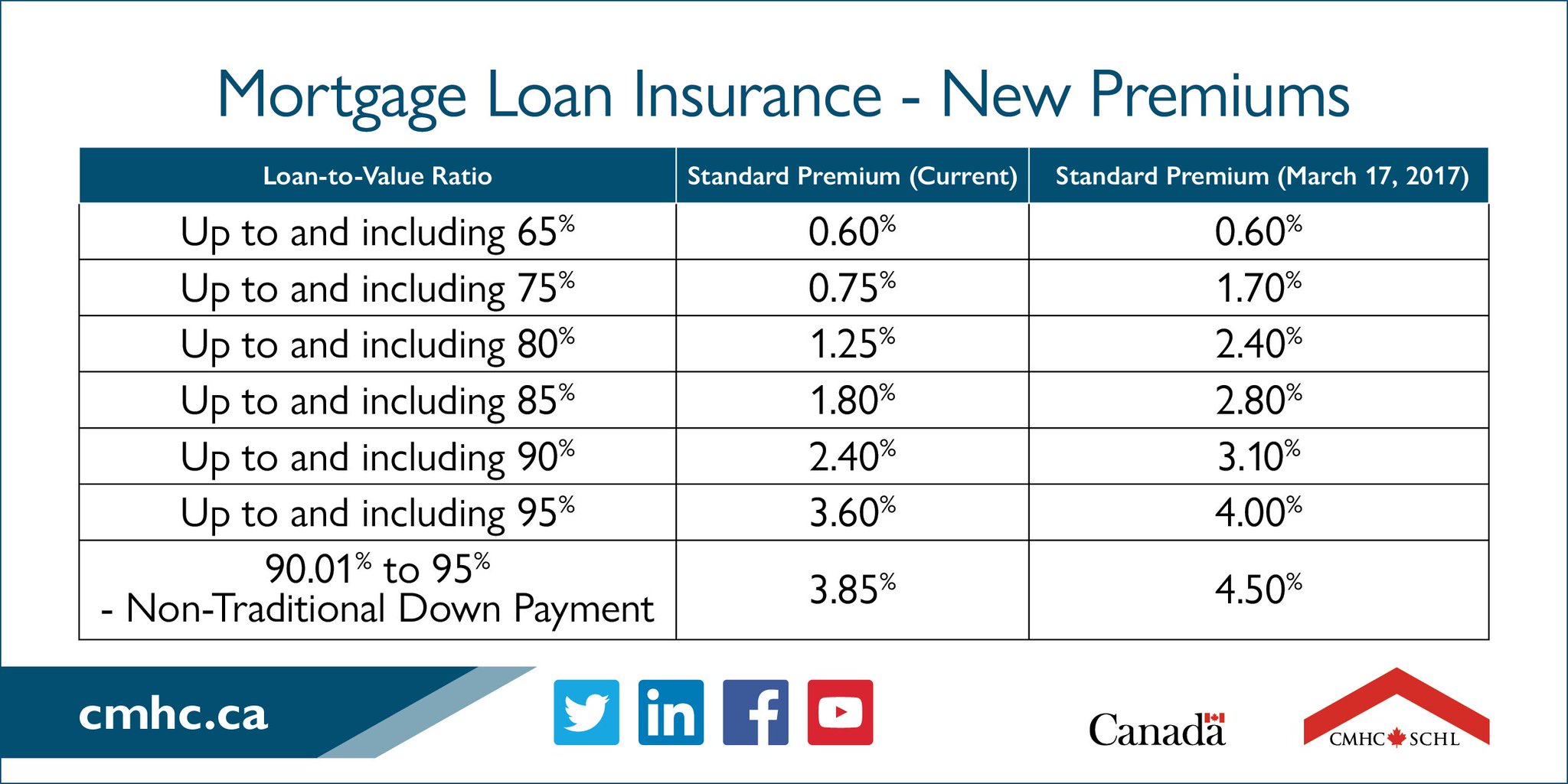 So what does that mean for a mortgage insured under the new rules? According to CMHC (via CBC), it means very little: "It expects the changes announced Tuesday to work out to an extra $5 a month, on average, per borrower." That doesn't sound like much, but if you multiply it by the lifetime of a mortgage – it means an extra couple thousand dollars.
Here's the good news: "Anyone who already has a mortgage or has applied for one will be grandfathered into the old rates." That means that if you have a mortgage now, or apply for one before March 17th, you avoid this insurance premium increase entirely. If you've been thinking about it at all, or if you have any questions about how these new rules affect you specifically, I urge you to give me a call at (250) 782-9665. As a mortgage broker with years of experience dealing with shifting economic climates and constantly changing rules, I know exactly how to navigate the landscape to get YOU your perfect mortgage. It doesn't cost you anything at all to ask for my advice, but it could save you thousands of dollars in the long run if you do. I get paid by lenders directly, so my only interest is finding you the right fit – and I guarantee I will.
On a final note, I have some excellent news to share. My company, Peace Country Mortgages, is opening up a second office in Fort St John on February 1st! We're super excited to be a part of the community, and if any of my readers live in the area, please stop by to say hi! On behalf of myself and my entire team, I want to say that we're looking forward to working with you all and getting as many good mortgages into as many good hands as possible. See you all real soon!
Lori Lalonde, Your Northern BC Mortgage Broker